COVID-19 UPDATE
Questions regarding dates - 25th March 2020
We have had a couple of questions regarding dates. At the moment all we have to go on is what is published on the Ministry of Educations website - that information can be found here.
We will try and keep you updated as we move forward but the information is usually delivered publicly before we have been notified.
A message from Aberdeen staff - 25th March 2020
Just wanted to wish all our families and children our love and support during the nationwide lockdown - Alert Level 4. We will miss seeing you all over the next little while.
Teachers and students will be officially on break from Monday 30th March and during this time like all other breaks, teachers will be taking time to look after their own family and households. They will also be preparing for Term 2.
Term 2 will officially start on Wednesday, April 15th BUT students will be learning from home, do not come to school until the government advises it is safe to do so, we will confirm this decision via school Facebook and our webpage. We will update what learning will look like closer to the time.
Our school website has lots of learning for all year groups and I know that there are many great Facebook pages and websites sharing fun ways to learn at home.
We are definitely heading into unknown territory for all of us and being with the ones we love and making them feel safe, happy and spending quality time together is most important at this time.
Please take care of each other.
Arohanui from all Aberdeen Staff
23 March 2020
The below notice came home today with all students.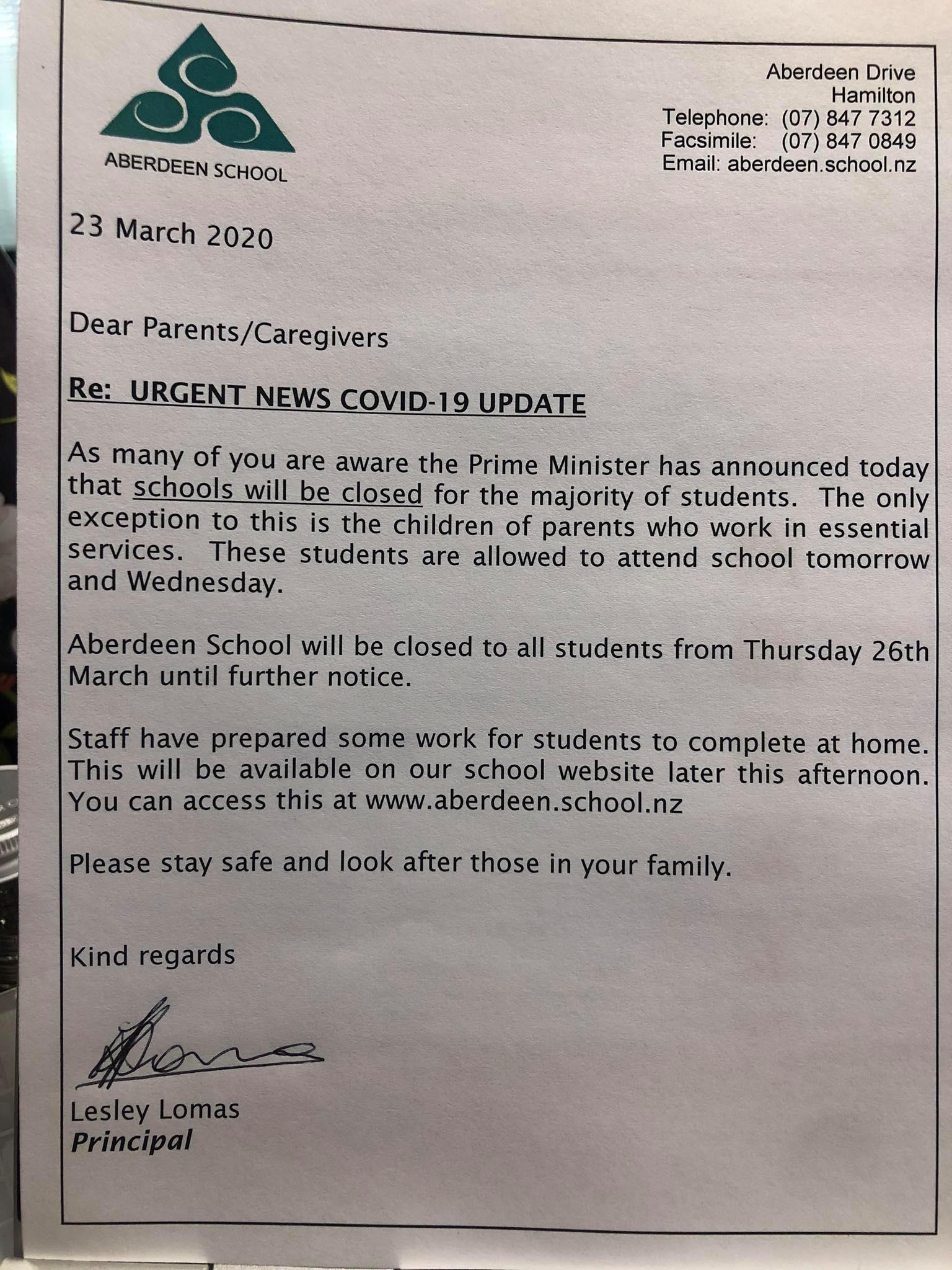 COVID-19 LEVEL TWO ANNOUNCEMENT
Dear Aberdeen School Parents/Caregivers
As you are aware, on Saturday the Prime Minister announced that New Zealand is now on Alert Level 2 for Covid-19. This means that people over 70 as well as students and staff with existing medical conditions are being asked to remain at home to stay safe.
The medical conditions identified include:
a compromised immune system
severe asthma and other respiratory illnesses
liver disease
kidney disease
heart disease
diabetes mellitus
Although Aberdeen School remains open, we have been asked to minimise social contact as a protective measure against the spread of Covid-19.
This has the following implications for our school:
Pod Hui and other large group gatherings within the school will now stop.
We will be encouraging our students to maintain physical distancing as well as they are able to within classrooms.
We ask that you drop off and pick up your child at the gate or outside the classroom each day. If you have a query or concern that you wish to discuss with the teacher then please text or email the teacher or use Class Dojo or a Class Facebook page to contact them.
Please don't visit the school office unless your visit is absolutely essential. The office staff are more than happy to answer any queries you have by phone or email or pass on a message to a teacher or Senior Leader.
Staff have been asked to limit the number of face to face meetings with parents and outside agencies at this time. We are encouraging email and phone contact to ensure communication remains open.
There may be instances when a number of our staff are absent from school and classes need to be split or shared into other classrooms.
We are doing all that we can to ensure our staff and students stay safe. Additional cleaning around the school is taking place on a daily basis. The school is well equipped with soap and paper towels for regular use by staff and students.
Please do not send your child to school if they are unwell. If a student is unwell at school, you will be asked to come and collect them.
We ask that students bring their own drink bottle to school and it is important to remind them to wash their hands regularly. Teachers have been reinforcing this at school often throughout the school day.
Finally, if your child is going to be away please ensure you send a text message, leave a phone message or email the school with the reason your child will be away and the duration of their absence. This is extremely important so that we know where all our students are each day. Teachers are preparing work for students who are going to be away for long periods of time or in the event of school closures.
This is a difficult and challenging time for us all and we want to ensure the safety and well-being of our students and staff.
Thank you all for your support.
Lesley Lomas
Principal